Régua - São João da Pesqueira - Régua Cruise
Cruise to Ferradosa, with a visit and traditional lunch on a Wine Village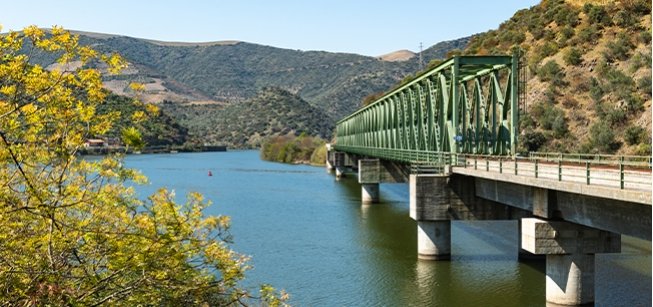 New
Take on an adventure through a hidden Douro. Departing from Régua, embark on a magnificent cruise to Ferradosa, crossing some of the most incredible landscapes of the Douro. This tour includes a sublime visit to one of the most famous wine village in Douro , with a delicious traditional lunch. Discover the Wine Museum, the Sanctuary of São Salvador do Mundo, its viewpoint and much more!
Cruise Program
Check-in and boarding at Régua Pier
Departure of the cruise towards Ferradosa
Breakfast served on board
Passage through Bagaúste Dam (27m difference in level) and Valeira Dam (32m difference in level)
Glass of Port Wine served on board
Expected arrival at Ferradosa Pier and disembarking of passengers
Transfer by private bus to São João da Pesqueira
Regional lunch served at a Traditional Restaurant
Visit to the Wine Museum, the São Salvador do Mundo Sanctuary (and viewpoint) and the Port Wine Cellars
Transfer by private bus to Ferradosa Station
Attendance at the Ferradosa Train Station
Departure of train to Régua
Expected Arrival at Régua
End of our services
CONDITIONS
PRICE (per person)
AUGUST: 7, 20, 29
SEPTEMBER: 4, 19, 20
98€
BABIES UP TO 3 YEARS OLD
Free
CHILDREN 4-11 YEARS OLD
50% Discount 
Notes:
The boarding assistant will accompany the group throughout the journey.
Due to the closure of the Douro dams for maintenance and weather conditions, this cruise only takes place between the months of April and October
Photo Gallery:
This is a very special cruise. Departing from Régua, we sail to Ferradosa Pier, inserted in an impressive area full of vineyards planted in beautiful terraces. Located on the left bank of the Douro River, in the Valeira reservoir, it allows the docking of vessels. On the way to this location, we pass two imposing dams and the magnificent area of ??Pinhão.
This morning cruise then gives way to a tour of one of the most famous wine villages in the Douro: São João da Pesqueira. This village has an incredible religious historical heritage, narrow stone streets, good wine and breathtaking natural landscapes. Land closely linked to fishing and wine production, it is one of the most traditional places in Portugal.
In this quiet village, you can enjoy a delicious regional lunch and then admire some of the most beautiful places in the area: we will visit the famous Wine Museum, some Port Wine Cellars, the Chapel of São Salvador do Mundo and its magnificent viewpoint overlooking extensive vineyards and the Douro River. An adventure not to be missed!
Tailor-made Cruises?
Tailor-made cruises for groups with special prices and conditions!
Request Quote