Porto - Barca d'Alva - Porto
Full day Cruise between Régua and Barca d'Alva
Price 130 €
Travel to the Spanish border , on an unforgettable day. Departing from Porto, book your Saturday to discover the most genuine corners of the Douro Wine Region. On a cruise, crossing the Douro River, this program covers the entire extension of the Douro in Portuguese territory . Book now!
Cruise Program
Attendance at the Main Hall of the Campanhã Train Station (next to ticket offices)
Turism coach departures to Régua
Expected arrival at Régua
Walk to Régua Pier with the boarding assitant
Boarding of passengers at Régua Pier and beginning of the cruise to Barca d'Alva
Breakfast served on board
Passage through the Bagaúste Dam (difference in level of 27m), the Valeira Dam (difference in level of 33m) and Pocinho Dam (difference in level of 22m)
Starters, lunch and a snack served on board
Expected arrival at Barca d'alva 
Transfer to Pocinhho Train Station
Turism coach departures to Porto
Expected arrival at Porto (Campanhã Train Station)
End of our services
PRICE(PER PERSON)
SATURDAY
PORTO - BARCA D'ALVA - PORTO
130€
BABIES UP TO 3 YEARS OLD
Free
CHILDREN 4-11 YEARS OLD
50% Discount 
Notes:
If CP (Portuguese Railways) can provide the tickets, the transfers by tourist coach mentioned in the programme will be made by train.
For the train journey, tickets will be delivered on the day of the cruise by our boarding assistant, who will be in the main hall of Campanhã Station, next to the ticket offices, duly identified.
The boarding assistant will accompany the group throughout the journey.
It is possible to book the Régua-Barca d'alva cruise, without train. In this case, we will make the respective adjustment to the final price.
Due to the closure of the Douro dams for maintenance and weather conditions, this cruise takes place between April and mid-October.
Photo Gallery: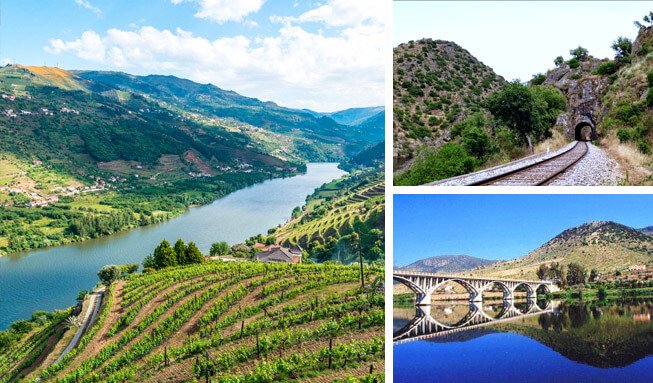 Barca d'Alva is much more than a quiet village on the Spanish border: it is History, Translation and Culture. Its prosperous development felt with the railway line that connected it to Spain was stopped when the last train passed through there. Nowadays, only the many cruises that pass through there return animation and life to this small cluster, which surprises by the richness and spectacularity of its landscapes.
The extension of the Douro River in Portuguese territory covers about 213 km and, therefore, it is not easy to get to know it in a single day. But we combined a sublime train journey along the Douro Line to a beautiful cruise and we managed to provide an incredible experience in the Douro region.
Get ready to experience the best of the Douro, to be dazzled by imposing landscapes and to discover one of the most beautiful rivers in the world!
Tailor-made Cruises?
Tailor-made cruises for groups with special prices and conditions!
Request Quote